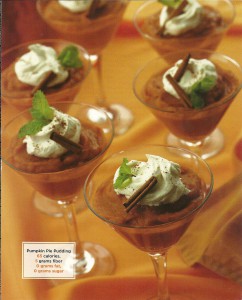 Want to have your cake (or pie) and eat it too? This recipe for Pumpkin Pie Pudding affords you all the flavor and richness of pumpkin pie, minus the sugar and fat. It's very quick and easy to prepare, and requires no cooking skills or fancy equipment—just a bowl and a spoon! Pumpkin also happens to be an excellent source of fiber and beta-carotene, so this dessert is actually good for you! Enjoy!
Ingredients:
1-15oz. can pumpkin
1-1oz. package sugar-free instant vanilla pudding
¾ cup water
1 Tbsp. brandy or rum (optional)
1 tsp. cinnamon
½ tsp. pumpkin pie spice
¼ tsp. salt
mint leaves and dollop of whipped topping for garnish, if desire
Combine all ingredients (except garnish) in a mixing bowl and beat for about 1 minute, or until smooth and well-blended. Spoon into dessert dishes and refrigerate at least 30 minutes before serving. Garnish with mint leaves and whipped topping, if desired.
Yield: 4 servings
Per serving:
65 calories, no added fat or sugar, 5gms. fiber
vs.
1 slice pumpkin pie
390 calories, 17grams of fat